The Grand Cyclocross is a bike race held at the Sands the third weekend in October. Bike Iowa sets up the 1.6 mile course and operates the event. Race lengths vary. Riders sign up for races based on age and experience. There is a clinic on Friday with tips and a preview of the course. Saturday and Sunday are race days. The bar is open and there are food venders. In 2018 there were about 500 racers per day. Many of the racers entered in multiple events. There are regular races and big wheel races sorted by experience, age and sex.
Register through Bike Iowa. Click "events" then search by date.
New this year: a keg in the woods on Saturday and more food options. Clinic on Friday.
What kind of bike do I need? Hybrid, touring, mountain or road bike can all work. Talk to the folks at Rassy's Bike Shop (301 Grand WDM) about any modifications you might want.
This is a good bunch that likes to have fun. I am happy to help. Mike
Sponsors:
- Lean Techniques
- Bike Rags
- Rassys Bikes
- Garmen Partners
- Des Moines Stamp
- Knavewear

Start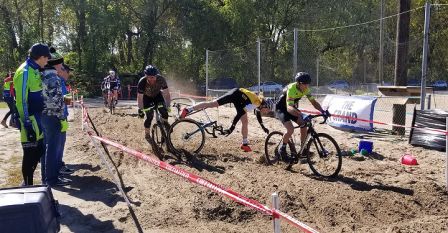 Through some sand for entertainment
Through the woods