The Sands Volleyball Club is a place for active people to have fun. In 1987 we opened with four volleyball courts and fifty-six teams. We now have twenty-two lighted sand courts and over six hundred teams. With twenty-two courts the Sands is able to offer volleyball leagues for all skill levels... beginners to high power. You can play sixes, fours or doubles. Teams are Men's, Women's or Co-Ed (Mixed). At the Sands, Recreational Co-Ed Sixes is the most popular league. You do not have to be good, just fun. You can select Beginners or Intermediate Levels. For more serious players we offer power sixes, fours and doubles.
For all of our volleyball leagues scheduling is easy. At the Sands you always play on the same day at the same time. You even get to pick the day and time. You get to play when it is convenient for you. No need to have schedules tacked to the side of your refrigerator.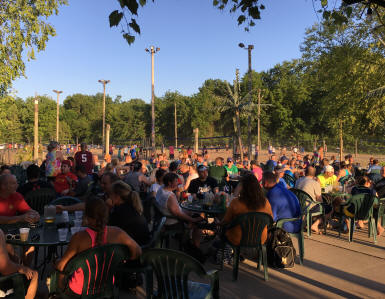 In addition to our volleyball courts and softball fields we have an air-conditioned club house, sunny patios, covered patio with fans and heat, shade arbors plus a Cabana with mini-bar (we like patios). The atmosphere is friendly and very casual.
Reminder: In beach volleyball a serve is not longer considered "a hard driven ball". Therefore when you receive a serve your hands must be locked together or the set must be absolutely perfect (not impossible but extremely rare). If you are in Recreational Leagues, don't worry about this rule. If you are in other leagues: be patient, old habits are hard to break. When an infraction occurs, call it and replay it.