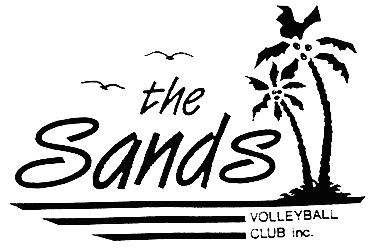 Updated Wednesday, 6/28 (Site is updated at 4:00) Heat advisory: Drink plenty of liquids before you come. Dress in something you can get wet.
Wednesday Volleyball: At 5:20 some of the courts are good and some have standing water. Leagues are cancelled. We will be here if you want to practice or play pick-up. We will be closed July 2-4. Mike
Wednesday Softball: is cancelled. We will be closed July 2-4. Mike

This week's schedule: Sunday (7/9) week #4; Monday (6/26) week #7; Tuesday (6/27) week #7of 8; Wednesday (6/28) week #7 of 8; Thursday (6/29) week #8 of 8.
The Sands is a laid back, fun place to play. With twenty-two courts we are able to offer all levels of play at fixed times that you choose. The clubhouse has a full service bar complete with cocktail freezers. There are sunny patios with palm trees and covered patios with fans and heaters. The atmosphere is casual and friendly. Registration deadline for 1st session is Wednesday, April 19th. Follow the information link for league discriptions, volleyball forms and availability.
Second Session starts some time in July (depending on rain-outs). Second session slots are available Tuesday, Wednesday and Thursday for seven weeks. Teams are registered in the order they are received. 7:30 time slots are difficult, so please have a second choice.
Tournaments for adults. For Juniors see USA Volleyball Iowa Region http://www.iavbreg.org
Teams that register in January were entered in the "Free Beer Drawing". Winner of a pitcher per week: "Wish We Were Taller" Monday volleyball. Runners up: Beaverdale Strike, Thurs. softball and Brock Yossi, Wed. volleyball. Each get a pitcher for trying.
We have office hours 2:00 to 6:00, Monday through Friday. Mike
At the Sands we play softball for fun. Safety and sportsmanship are emphasized. Beer, sodas and snacks are served at the Cabana Bar between the fields. Follow the information link for league discriptions, softball forms and availability.
For the 2017 season teams can use 47 or 52 core restricted flight balls.
Sunday Schedule '17 Tuesday Schedule '17 Wednesday Schedule '17 Thursday Schedule 2nd '17 After we make sure Co-Ed teams are playing on a Co-Ed night and Men are playing on a Men's night I will roll down the schedule. Thanks, Mike
Private Events 2017
The Sands is a great place for company picnics, parties and reunions. We can accommodate groups as small as forty and as large as eight hundred. The Main Clubhouse Area and the Cabana Area are both available May through September. Most weekends for 2017 are already booked. Information